Saúl Luciano Lliuya vs. RWE
Saúl Luciano Lliuya - an Andean farmer and mountain guide from Peru - and with him more than 50,000 inhabitants of the Andean city of Huaraz are acutely threatened by a flood wave due to the consequences of global warming. A glacial lake above the city has grown threateningly due to glacial melt. An ice avalanche could cause the lake to overflow and trigger a destructive tidal wave.
Saúl Luciano Lliuya decided to take initiative. On November 24, 2015, he filed a lawsuit against the energy company RWE in a German civil court. As one of the largest CO2 emitters in Europe, RWE is partly responsible for the climate crisis and the threat posed by the flood wave in Huaraz.
Saúl Luciano Lliuya is concerned about the urgently needed protection for himself, his family as well as the people in Huaraz, who have contributed little or nothing to the climate crisis.
The major polluters of climate change must finally face up to their responsibilities.
Saúl Luciano Lliuya
Current status of the lawsuit
One year after the court visit to Huaraz, the experts' report on the flood risk is now available. The parties to the lawsuit will now analyse it and have the possibility to submit written statements. The Higher Regional Court of Hamm will then set a date for a hearing.
Subscribe to our newsletter to stay up to date!
"A man who takes responsibility"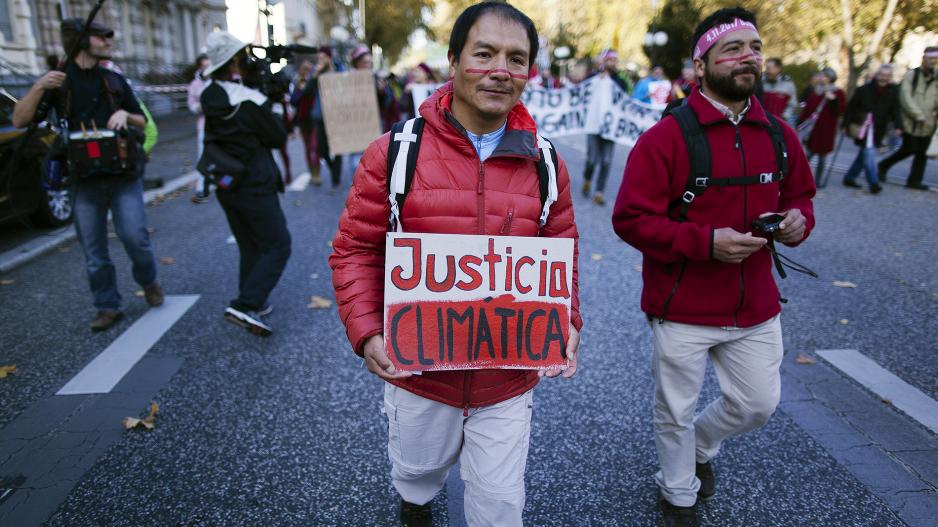 Alexander Luna | Germanwatch e.V.
Climate change plaintiff Saúl Luciano Lliuya at a demonstration.
Luciano Lliuya's lawsuit has had a signal effect like no other climate lawsuit, as it is the world's only such case involving corporate liability for climate risks to make it to an evidentiary hearing, thus already making legal history.
Luciano Lliuya is not a lone fighter. He represents a growing number of people who, faced with inadequate political and corporate responses to the climate crisis, are increasingly turning to the world's courts and demanding climate justice. Their lawsuits give a voice to those whom climate impacts particularly affect, even though these people have contributed little to not at all to the climate problem.
Goals of the climate lawsuit against RWE
Help the plaintiff and the people of Huaraz reduce the risk of destructive flooding.

Hold polluters like RWE accountable and encourage them to adopt less-damaging business models.

Bring about national and international political solutions to protect the people most affected by climate change.
In addition to the lawsuit, an important goal of Luciano Lliuya is to raise awareness about climate change. The dramatic extent of glacial melt is visible to everyone in his region, but some lack knowledge about the scientific connection. Adapting to climate change is a challenge for many people, especially in the agricultural sector. To address these issues, Saúl Luciano Lliuya is working with the local NGO Wayintsik-Perú, which in Quechua means "Our home", together with the people who accompany him in his struggle. This NGO carries out projects to raise awareness about climate change and supports local communities in adaptation processes.