International climate politics
Countless people, especially in the Global South, are already suffering from the consequences of the climate crisis. Floods, forest fires and droughts are causing more and more climate-related damage and losses. People like Saúl Luciano Lliuya demand that those who caused climate change take responsibility for the consequences (polluter pays principle).
This responsibility is reflected, among other things, in the obligation of industrialized countries to provide international climate finance for climate-related loss and damage. This is an important and controversial topic at the international UN climate negotiations.
What does "Loss & Damage" mean?
Climate related Loss & Damage (L&D) includes the consequences of climate change to which individuals, communities, or countries cannot (or can no longer) adapt. They occur as a result of more frequent and intense extreme weather events, such as storms or floods, and slow-moving environmental changes, such as sea-level rise or glacier melt.
Countries in the Global South are particularly affected, although they have contributed least to the climate crisis. At the same time, they lack the (financial) capacity to adapt to the changes. Strategies to avoid, minimize and manage damage and losses are urgently needed, for example in the Peruvian Andean city of Huaraz, where a lake above the city has grown due to glacial melt. To avert the danger permanently, the construction of a larger protective dam and a new drainage system is urgently needed.
Countries with high historical and current emissions should provide (financial) support for dealing with losses and damages, in line with the polluter pays principle. Fossil fuel companies, such as RWE, should also share the costs of risks and damages they cause with their business model. Saúl Luciano Lliuya's lawsuit and his participation in world climate summits in the past have been important to push this debate.
UN Secretary-General Antonio Guterres called in a speech to the UN General Assembly in September 2022 for a tax on the enormous excess profits of the fossil fuel industry. Polluters should finally have to pay for the damage.
At the last climate conference in Egypt (COP27), dealing with Loss & Damage was finally put on the agenda as a key issue, and the establishment of a Loss & Damage fund and a support architecture beyond it was agreed. This is a major diplomatic breakthrough, in which climate lawsuits such as the RWE case played an important role.
Saúl Luciano Lliuya at COP27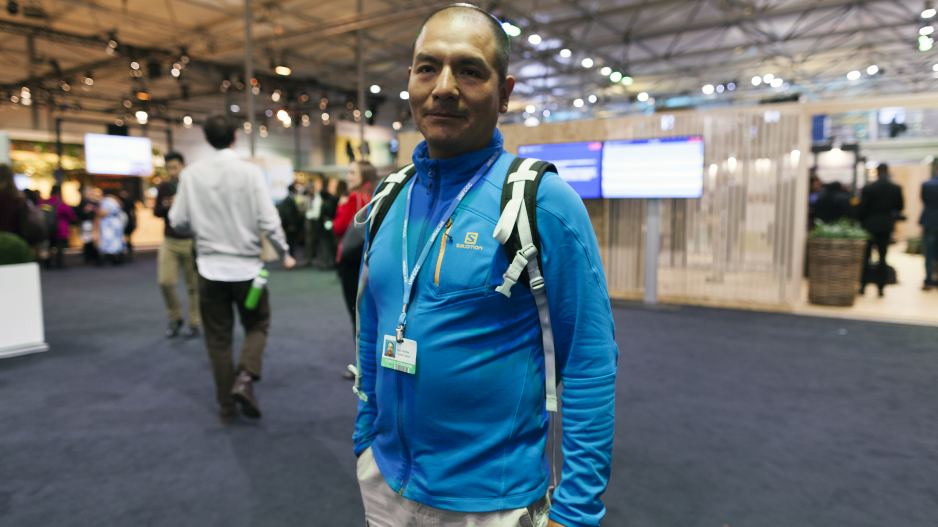 Germanwatch e.V.
Plaintiff Saúl Luciano Lliuya participated in last year's COP27 in Egypt. He was able to use this opportunity to exchange with other people affected by climate change from all over the world and to increase the pressure on state and government representatives to finally implement an adequate solution for dealing with Loss & Damage so that people like him are protected from the risks and consequences of the climate crisis. He has spoken about his climate lawsuit at several events. You can find the recordings of the events here: To the events